See Plans
$65 Per Month!
For as low as $65 per month you can have a high quality, custom designed website that will drive more business to your doors! With our affordable website design plans, getting a high quality website is now easier than ever.
Click Here
Free Phone Consultation
LMS Website Services is offering a free phone consultation for any small business owner who is interested in having a high quality, affordable website designed. Just click the button and fill in the form and we will get back to you.
More Blog Articles
Website Design Blog
July 1st, 2020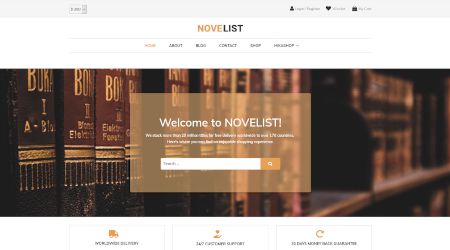 E-Commerce Website Design!
LMS Website Services is proud to announce another E-commerce web design. This particular web design is called LMS Novelist and is tailored for the online bookstore but can easily be customized to fit just about any E-commerce store. This web design is an alternate version to our best selling "Bookstore" web design. See our stable of E-commerce website designs here.

Call Today! 248-804-9744
Web Development Company
LMS Website Services specializes in creating websites for small to medium sized businesses. We are a local web development company that can design a custom website that will drive traffic to your doors. Every website we make is designed with built in on-page SEO (Search Engine Optimization-which is the science and art of getting your website ranked higher in search rankings. Getting your website to show on the 1st page of Google and high up on the list). It's included in our initial website design package. This is what makes our website designs better than the rest. High quality and affordable website design all rolled up into one!
Local SEO Services
We can help you get more calls and more customers with our targeted digital marketing services. We specialize in local SEO (search engine optimization) which will get your new company website found on the Internet. Your website will be optimized so as to show up in all local search engines. We concentrate our efforts on organic search results and monthly processes that drive traffic to your website. Local SEO services is the best way to be found on the Internet locally!
Small Business Website Design
We believe in a hands on approach and personal customer service. Our goal is for every client to acheive a successful online presence. We specialize in small business website design. Focusing our business on small business's allows us to give highly targeted, personal customer service to every clent we serve. We have over 85 different custom website designs to choose form.
We also offer two different website design plans. Plan 1 is for website design, hosting services, maintenance and monthly backups. Plan 2 includes all of the features of Plan 1 but also adds one hour per week of ongoing SEO services.